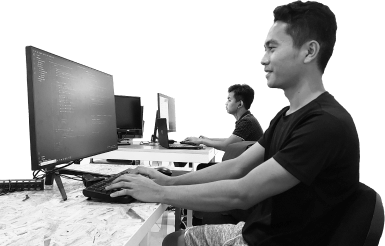 Join Village 88
Online Job Fair 2022
Meet vetted web developers and QA testers trained with a world-class curriculum trusted by major universities in the Philippines!
DATE: Nov. 3 - Nov. 30, 2022
Let Us Help You
We help companies make quality hires by providing quality candidate lists.
Source Easier

No need to look everywhere! You will receive free lists of skilled developers every six months for FREE.

Hire Better

We have a no hire, no pay policy. We won't charge you anything until you hire from our list.

No hire? No problem!

No need to worry about quality! Our developers are trained with a world-class and proven-effective curriculum.
What to expect from our Developers
Our developers are trained with a world-class curriculum and they are proficient with at least 30 most in-demand technologies in the industry today.
HTML
CSS
SASS
LESS
Bootstrap
Foundation
Responsive Web Design
Git/Github
Advanced Git
PHP
OOP
CodeIgniter
MVC Frameworks
Ajax
Database Design
SQL queries
SQL query optimization
Redis
MongoDB
MySQL
PostgreSQL
ORM
Cloud deployment
Javascript
jQuery
Node.js
Jasmine
Advanced Javascript
Express
Socket.IO
Wordpress
React
Ruby
Rails
Rspec
Capybara
Heroku
Unit Tests
TDD
Selenium
Docker
Containerization
Continuous Deployment
Continuous Integration
Jenkins
Building a resume
Corporate Ethics
About Village 88 Employer Network
The Training

We train aspiring developers with a curriculum worth $16,000, but we offer it for free ONLY to Filipinos.

The Resume Book

We compile candidates' resume after the training. All geared with 40+ in demand and up-to-date technologies.

The Employer Network

We send the exclusive and free Resume Book to the members of Village 88 Employer Network .
Where some of our alumni work